She took me around 8 months to finish (I am a slow stitcher) but here she is ~ Carriage House Samplings Strawberry Blonde.
My stitching has been a bit erratic over recent times and I feel I am just marking time until I can become satisfied with my choice of threads for my baby sampler.
September will mean a new start on my stitch-along with Sandra and this month we are doing another part of the With My Needle ornament set. That will be our 3rd piece from this set and our 9th ornament for the year. I will be sorry when we have finished our year stitch-along but we are already planning something else for next year.

My shadow was giving a 'what do you want' kind of a look when DH was trying to take a photo of him earlier today.
He has had a nice walk this afternoon along the river so he is a happy boy.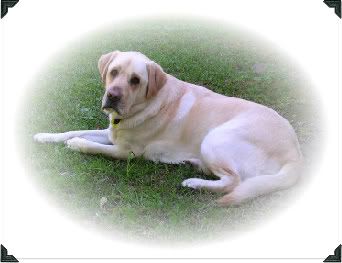 I decided I would like a slight change to the look of my blog and thanks to some help from
Karen
I have been able to achieve this. Hope you like my new look and thanks so much Karen.


"We long for an affection altogether ignorant of our faults. Heaven has accorded this to us in the uncritical canine attachment"
~George Eliot